CMT Division Manager, Christopher Hillis, P.E., Participates in NAIOP's Virtual Industry Discussion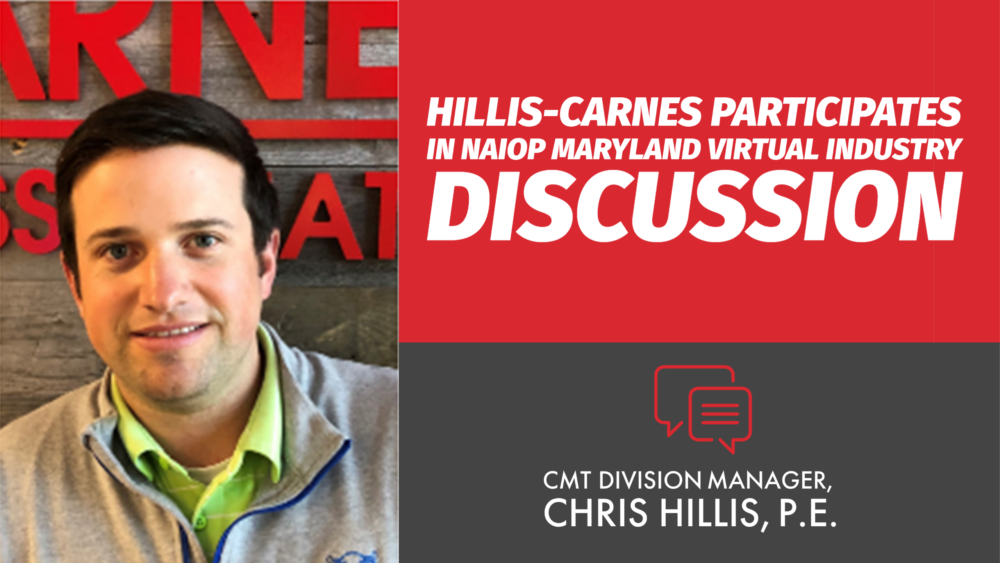 CMT Division Manager, Christopher Hillis, P.E., of our Annapolis Junction, Maryland office participated in the NAIOP Maryland virtual industry discussion last week with Kat Sabo, President of Budova Engineering and Joe Ucciferro, an Associate of Bohler. Each participant shared their thoughts on how the engineering discipline has been impacted during this pandemic, what our industry is doing to ensure employees feel comfortable when returning to the workplace, and professional growth tactics each has engaged in during this challenging year.
Chris discussed how he feels that biggest change we have seen throughout this pandemic is communication. "With the switch to a virtual workplace, it was a big adjustment going from weekly staff and client meetings to all virtual meetings. Even inter-company, collaboration efforts and small-team meetings which previously happened organically now needed to be planned and coordinated. In a field that is traditionally very hands-on, it has been amazing to see everyone adjust to the new normal," says Chris.
As essential workers, Hillis-Carnes' field staff has continued working on construction sites since the start of this pandemic. During the virtual discussion, Chris shared what Hillis-Carnes has been doing to increase the comfort level among employees in the workplace. From our field staff to our office staff, it has been our top priority to navigate through all the guidelines, communicate the CDC standards to our employees, and provide all the necessary resources possible, to keep our employees working in a safe and clean environment. It is imperative that we not only protect our employees, but our Clients as well – all while maintaining a quality product. This means switching all staff meetings to virtual meetings and stressing the importance of constant communication with our field staff.
To read the full article, click here to visit NAIOP's website.