Hillis-Carnes 2019 Year-in-Review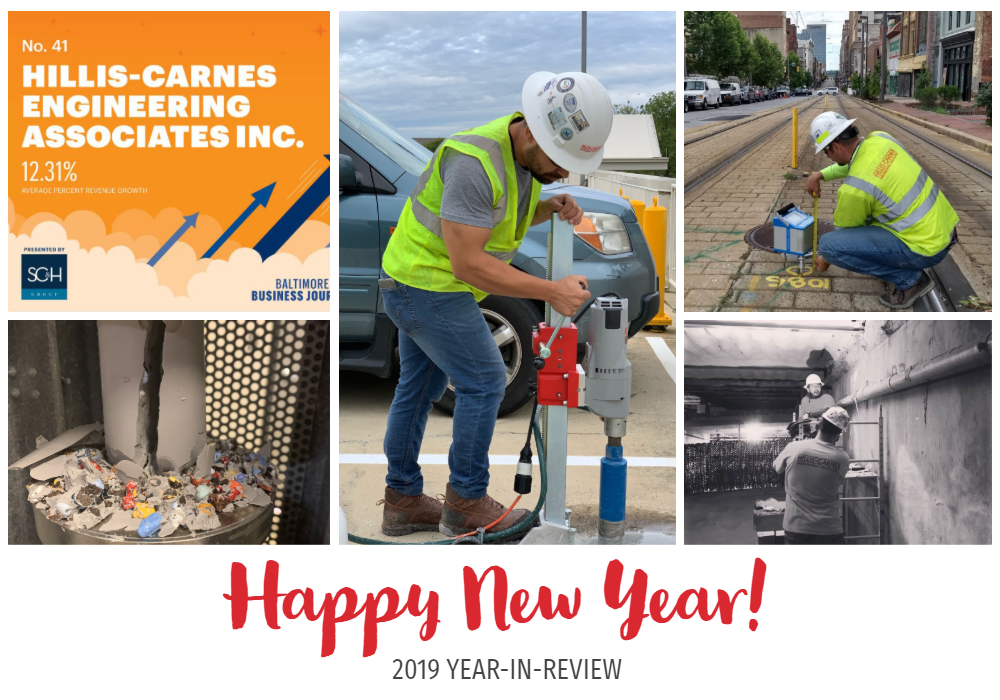 The 2019 Holiday Season is coming to an end, and with it, the start of a new decade is on the horizon. As we move into 2020, we wanted to take a moment to celebrate our team's hard work, dedication, and fun we've had along the way this past year.
Twenty-nineteen marked our 30th Anniversary. Founded in 1989 by Richard Hills, P.E., and William Carnes, P.E., the firm started in a small room in Maryland with one printer, a shared phone, and two desks. Thirty years later, Hillis-Carnes is now a 100% employee-owned firm with over 430 employees, 16 branch offices throughout the Mid-Atlantic region, as well as an international location in the Caribbean. The support and dedication of our employees are unparalleled in our industry and have led to the tremendous success of our company. Here's to our 2019 accomplishments:
Hillis-Carnes expanded our portfolio of services by adding in-house Microgravity Testing.
Hillis-Carnes Capitol Services PLLC received their lab accreditation, making Hillis-Carnes the second accredited special inspection firm in Washington, DC.
Our firm was ranked No. 41 of the Baltimore Business Journal (BBJ)'s top 50 fastest-growing companies in Greater Baltimore this year, supporting a 12.31% average percent revenue growth.
We wrapped up our year with the #breakitchallenge Holiday Gifts that showcased our Construction Materials Testing services and challenged our clients to break a chocolate concrete core to share with their employees, which has been a huge hit!
Here's to continued success in 2020 for all our employees, clients, and friends. Happy New Year!