Hillis-Carnes Opens New Pittsburgh, PA Office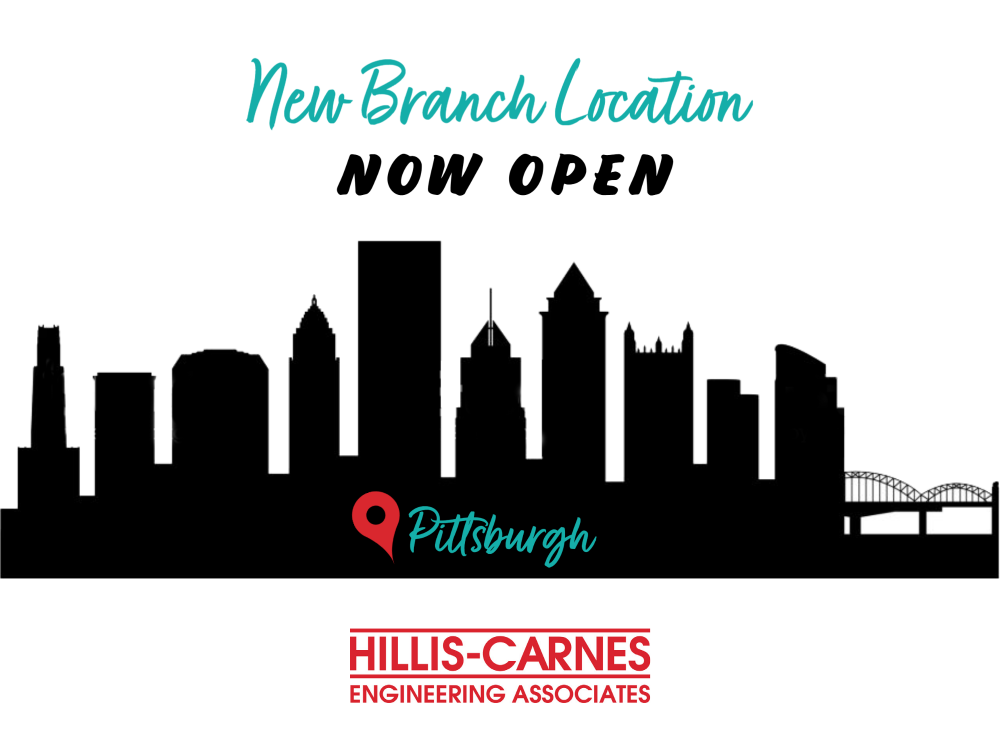 Hillis-Carnes is pleased to announce the opening of our newest office location in Pittsburgh, Pennsylvania. After providing consulting engineering services within the area for over 31 years, the firm established a local office to be more accessible to its public and private sector clients and projects in this area. The new office is located at 135 Southpointe Drive, Bridgeville, PA 15017.
Our Regional Manager of Central Pennsylvania, Mr. Jerome Guy, and Branch Manager, Mr. Justin Zelekovitz, will spearhead the launch of this new office. Mr. Guy has over 35 years of experience in Project Management, Construction Materials Testing and Inspections, Geotechnical Engineering, and Environmental Consulting. He has managed and coordinated the quality control and materials testing services on hundreds of construction projects throughout the Mid-Atlantic region. Mr. Justin Zelekovitz also brings with him over 16 years of experience in the construction and engineering industry. He has experience in QA/QC inspections, construction materials testing, materials laboratory, and business management. Mr. Zelekovitz has managed contracts for special materials testing with the PA Turnpike including the P3 bridge reclamation project.
Hillis-Carnes has been involved in several high-profile Pittsburgh area projects including Heinz Field. Hillis-Carnes was directly responsible for the management and administration of the construction plans, as well as the inspections of all structural steel, reinforcing steel, precast concrete erection, structural masonry, concrete for pile caps, grade beams, slab-on-grade/slab-on-deck, near-surface soil compaction including the playing field sub-grade, waterproofing, and firestopping. Our firm was the Special Inspectors for the City of Pittsburgh verifying that all construction complied with the contract documents, and we were on site 100% of the time through project completion.  Our firm has had offices in Eastern and Central Pennsylvania including branches in State College, Harrisburg, Lehigh Valley, and Philadelphia (Media) for many years now. Expanding our presence in Western Pennsylvania will enable us to meet the rising demands of our Clients across all parts of the state. Contact us to discuss your next project!
---
Contact Information
Justin Zelekovitz
Branch Manager
Office: (412) 206-0195
Cell: (412) 716-5029
jzelekovitz@hcea.com
Jerome Guy
Regional Manager
Cell: (443) 867-6336
jguy@hcea.com
Aaron Roach
Regional Business Development Manager
Cell: (412) 327-8132
aroach@hcea.com