Hillis-Carnes Purchases a New CAT Excavator 336 with Rev Drill Attachment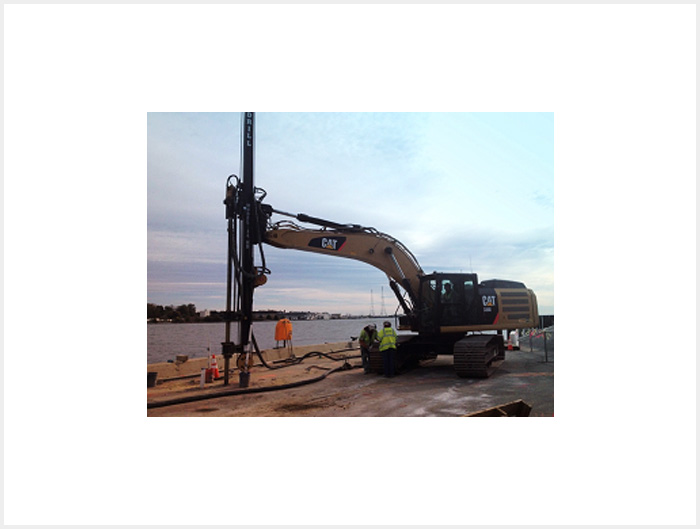 Hillis-Carnes recently purchased a new CAT Excavator 336 with a 50HD Rev Drill attachment (see above photo). With the drill mast mounted on an excavator, we can quickly switch from excavating to drilling holes in minimal time. The Rev Drill (USA Built) can perform the majority of your drilling needs, on a variety of site conditions, where conventional drilling would have limitations. This machine is capable of performing the drilling for deep foundation systems (i.e. micropiles, auger cast, and H-piles); rock drilling; drilling for grouting programs intended for ground improvement/stabilization; and drilling for anchors/tiebacks required for temporary and permanent Support of Excavation (SOE) systems. This machine allows Hillis-Carnes to become more efficient in our drilling, but more importantly, it enables us to provide our clients with "Economical Drilling Solutions" on our geotechnical specialty construction projects.
Some features/specifications of the Rev Drill are as follows:
1. Sled Travel – (Stroke) – The Rev Drill 50HD has a 50' drill mast. This 50' mast allows us to drill 50-foot deep holes in a single pass, without breaking and adding additional drill rods/tooling, exponentially increasing our drilling production on our compaction grouting projects.
2. Auger Diameter Range – 12 in. to 72 in.
3. Motor Rated Torque – 7,000 to 27,000 ft. lbs.
4. Crowd – 10,000 lbs
5. Retract – 40,000 lbs.