Hillis-Carnes Receives Recognition for Providing Excellent Service for $3M Langdon Stormwater Management Facility Project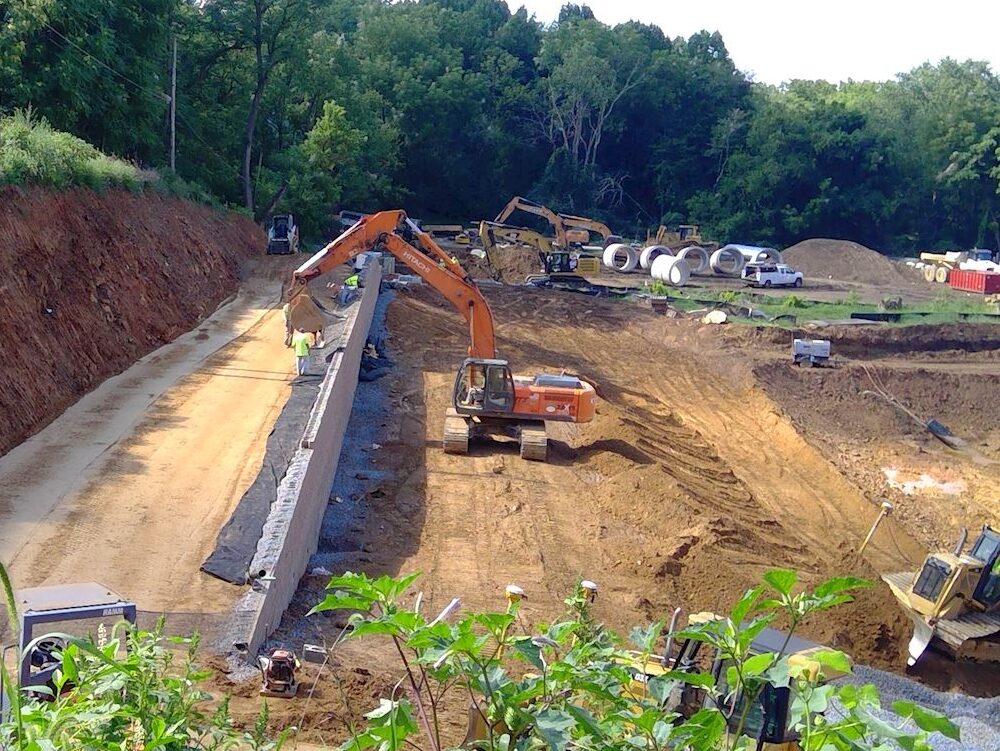 Hillis-Carnes recently provided the design and construction inspection services for the retrofit of a Stormwater Management Facility and construction of a modular retaining wall for Carroll County, Maryland.
The $3.15 million project was designed to remove pollutants from 96 acres of impervious area before discharging into the headwaters of Double Pipe Creek by installing a stormwater management pond adjacent to Westminster Avenue.   Our team recently received kind words from The Carroll County Board of Commissioners, who stated, "This project presented many geotechnical challenges, and your firm addressed them professionally and to great result."
Hillis-Carnes provided the retaining wall design to start the project in 2014. Our team performed a Geotechnical investigation, slope stability, retaining wall structural design, consideration of a steep slope next to Westminster Avenue with minimal working area for reinforced zone, and faced many geotechnical challenges. However, we worked closely alongside the Civil Engineer to get the approval needed for the wall plans and get the project off the ground.
In April 2020, Hillis-Carnes' skilled and experienced crew, working under the supervision of Project Manager, Steve Cronican and Principal Engineer, Rajesh Goel, PE, began providing Construction Materials Testing and Inspection services for the project. Mr. Purna Pradhan was our Lead Technician on the project. Our scope of work included testing and inspections during mass grading, dam embankment, core trench construction, observation and testing of utility backfill, monitoring and testing of foundations, reinforcement steel, and poured in place concrete for SWM structures. Monitoring and inspection services were also provided during the construction of a 328 ft. modular concrete block retaining wall. Thanks to the effectiveness of our work plan and the efforts of our team, this project was completed on schedule.
We are also proud to announce that the County Engineers Association of Maryland (CEAM) recently honored the Langdon project with the "Project of the Year" award in the Medium Project Category, which was given in recognition of outstanding county initiatives that address the needs of the citizens, provided a cost-effective solution, and demonstrated innovative engineering and construction. Our team is honored to have been able to be a part of this incredible project and the successes that have come along with it! Congratulations to all parties involved!