Hillis-Carnes Receives Sincere Appreciation and Recognition From Oxford Township After Providing Geotechnical Inspection Services for Sinkhole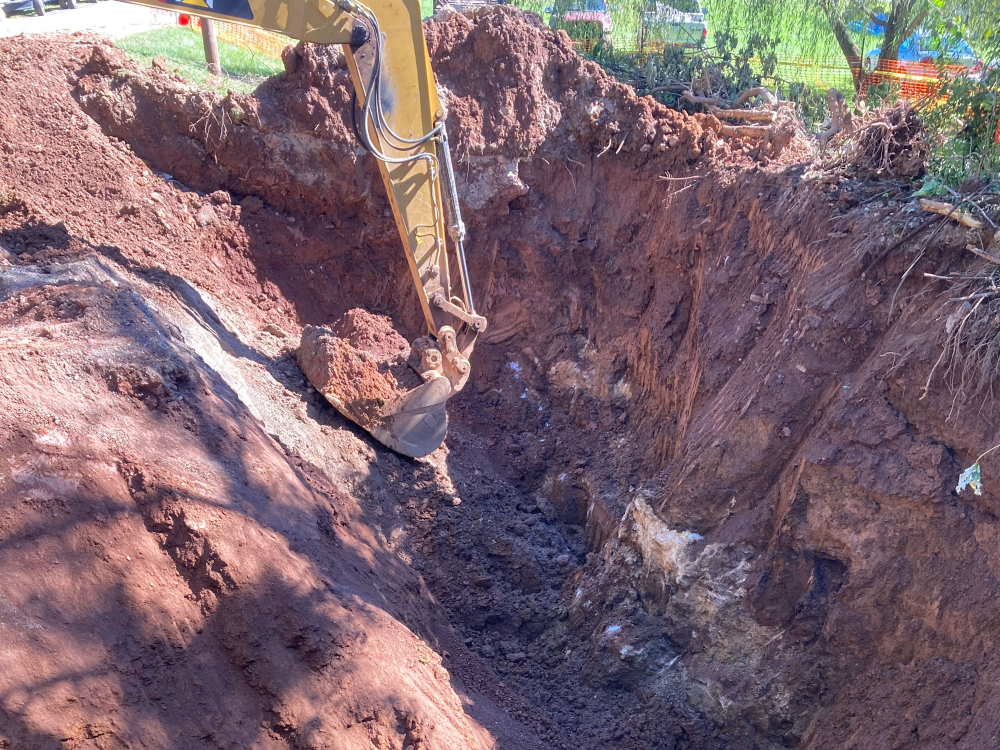 Hillis-Carnes recently provided geotechnical engineering and monitoring services during the remediation of a probable sinkhole located at the side of Red Hill Road in Adams County, Pennsylvania.
The probable sinkhole developed near the outfall area of a recently repaired culvert and the outflow from the culvert was free-draining into a sinkhole, causing depressions and cracks in the vicinity that extended into the recently repaired roadway and adjoining properties. Project Manager, Rajesh Goel, PE, and Senior Engineer, Robel Gibbe, PE, were contacted by the Oxford Township Manager to provide their expertise and guidance regarding the matter, and they took immediate action and performed a site visit. Upon site visit, Hillis-Carnes engineers realized the extent of the depression area created by the sinkhole beyond the drain outlet, quickly reviewed the geological conditions of the site, met with the remediation contractor, identified nearby material supply source for remediation, and developed a plan of exploration and remediation the same day.
Our scope of work included documenting/directing the excavation, exploring subsurface conditions, analysis of encountered conditions, providing remedial recommendations, observing remedial measures, and continuous geotechnical consulting to the client.
Our firm recently received a letter from the Board of Supervisors for Oxford Township, who expressed their sincere appreciation towards Hillis-Carnes being incredibly responsive, flexible, competent, and professional throughout the duration of the project. The Township Manager went on the say how Mr. Gibbe and Mr. Goel were phenomenal resources for them and that they were constantly impressed with the immense knowledge our guys displayed regarding the sinkhole problems they were facing.
At Hillis-Carnes, we always put our clients first. It's important that not only do we provide invaluable assistance to our clients, but that our employees professionally represent our firm. We are honored and humbled by the recognition that both Rajesh Goel, PE, and Robel Gibbe, PE of our Frederick, Maryland branch office received for their hard work on this job.