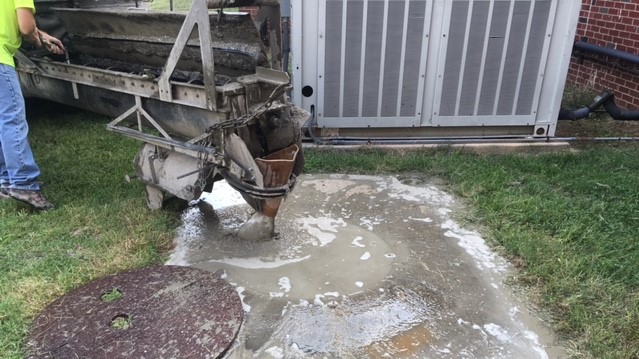 Anne Arundel County Detention Center
Hillis-Carnes provided Environmental Services for the Anne Arundel County Detention Center, located in Annapolis, Maryland. This project consisted of the proper closure of an Underground Storage Tank (UST) located on the site of the Detention Center. The UST was in an area that was accessible and grass covered and had a capacity less than 550 gallons. However, the UST could not be removed due to the proximity to electrical lines and a pad-mounted HVAC unit in the area. Therefore, Hillis-Carnes proposed the in-place closure of the UST.
The scope of services provided the preparation and location of surrounding utilities, removal and disposal of contents of the UST/cleaning of the UST, removal of attached pipes, drilling borings in surrounding soil, testing the soil to assess subsurface conditions/potential environmental impact, and slurry-filling the UST with a lean-mix concrete. The piping sump and tank field observation wells were also filled with concrete. Once the in-place closure took place, a copy of the written closure report for the UST activities, with the Client's permission, was submitted to the MDE. The MDE subsequently issued a case closure letter.