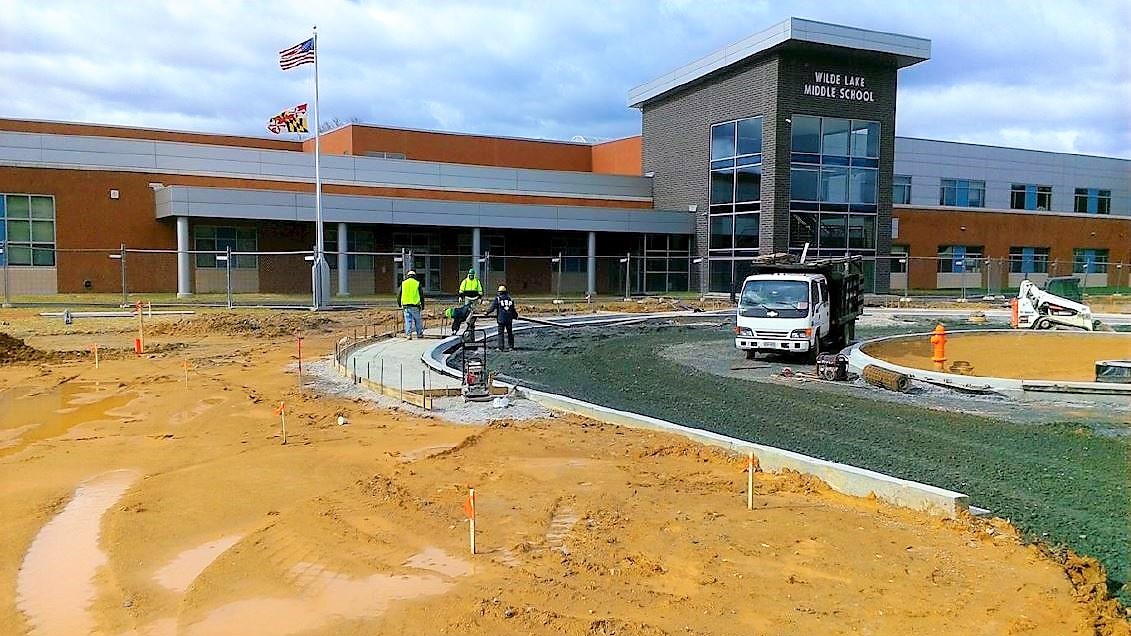 Wilde Lake Middle School
Cost: $43 Million

Completed: 2017

Location: Columbia, MD
This Howard County Schools Wilde Lake Middle School project consisted of the new construction of a replacement middle school located in the Columbia area of Howard County, Maryland, seating 662 students. The new school was built to the south of the former school, and in an area that was occupied by athletic fields. The construction took place while the former school was actively in session.
Our geotechnical team, led by Project Manager Michael Johnson, PE, provided in-house subsurface exploration and testing of the site conditions. The subsurface exploration program consisted of 21 soil borings in the proposed structural areas; 12 soil borings in proposed SWM areas; three borings in existing pavement areas and two in a proposed retaining wall area. The borings were advanced with hollow-stem augers and the subsurface soils were sampled at 2.5 ft. and 5.0 ft. intervals. Samples were taken by driving a 1-3/8 inch I.D. (2-inch O.D.) split-spoon sampler in accordance with ASTM D-1586 specifications. Laboratory tests were performed to determine the characteristics and parameters of the soils, including index property and classification tests.
Groundwater levels were monitored and in-situ infiltration testing was performed. After completion of the field exploration and necessary laboratory tests, an engineering report was prepared and submitted including a description of the subsurface conditions encountered at the boring locations as well as evaluations and recommendations with respect to the foundation design and related geotechnical aspects of the project development. Hillis-Carnes' recommendations included care and consideration of general site preparation, fill selection, placement and compaction, foundations, ground-supported slabs, groundwater and drainage, retaining walls, SWM infiltration and bedrock.
In addition to our subsurface exploration and geotechnical evaluation services, Hillis-Carnes also provided testing and inspections of earthwork activities (Site Utilities, Mass Grading and Fill Placement, SWM Facilities, Bio-Retention Facility, concrete/masonry (slump, air entrainment, temperature, test cylinders, mortar, wall grouting, prisms, etc.), structural steel (alignment, plumbness, measurement, connections, fireproofing, etc.), and pavement.
This project was done in conjunction with HCPSS On-Call Contract 039.12.B1