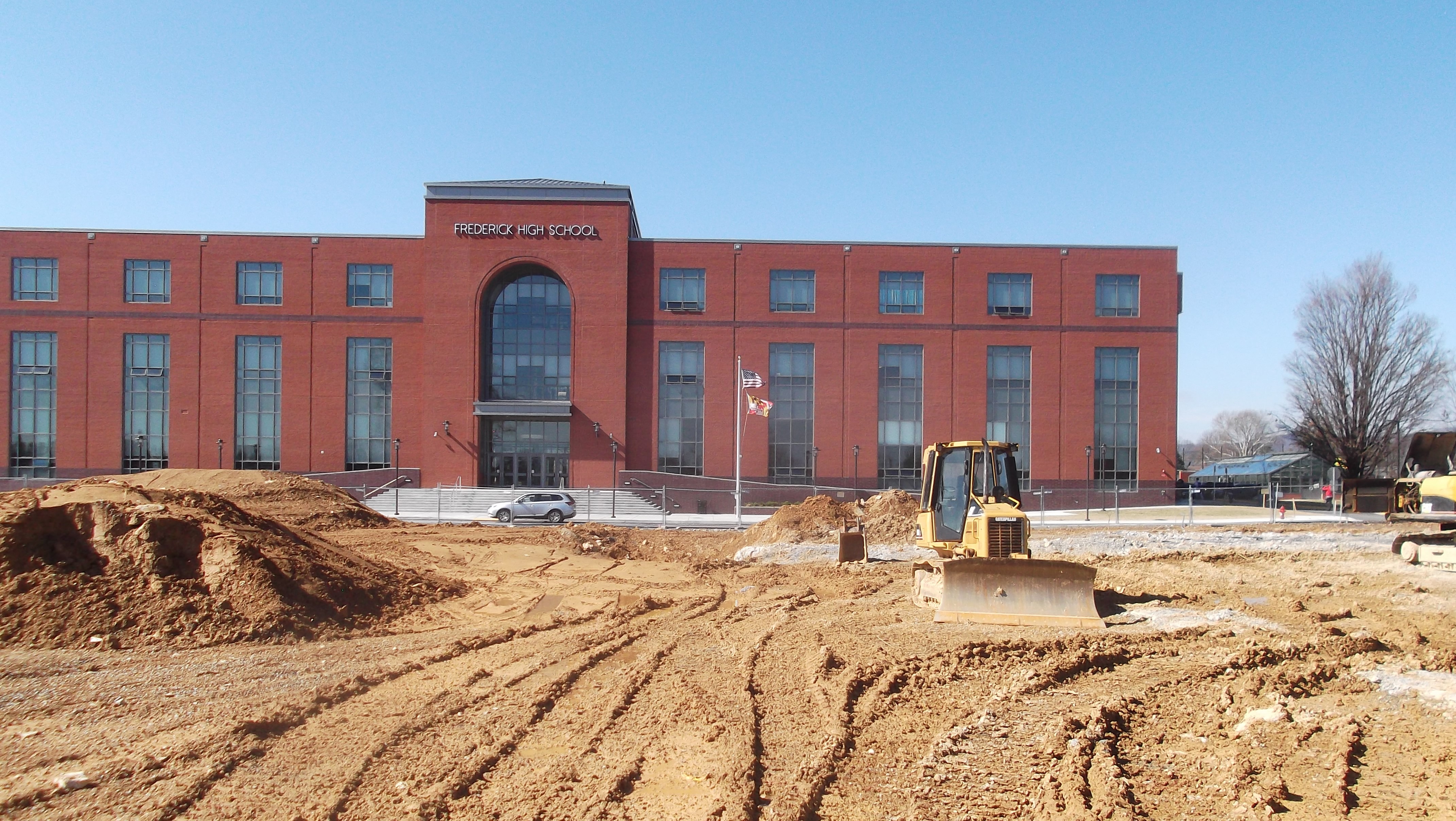 Frederick High School Replacement
Cost: $114 Million (Estimated)

Completed: 2018

Location: Frederick, MD
Hillis-Carnes was contracted to provide geotechnical engineering, grouting, and construction materials testing and inspection services for the $114 million Frederick High School Replacement project. The project consisted of the new construction of a 260,000 SF High School building to accommodate 1,800 students, and replace the existing school, which was more than 80 years old at the time of this project.
This project started in early 2014 with a supplemental Geological and Geotechnical investigation led by our Frederick, Maryland office Branch Manager and resident, Mr. Rajesh Goel, PE. The investigation included a fracture trace analysis, a micro-gravity geophysical survey, Cone Penetration Testing (CPT) and Dilatometer Testing (DMT), and additional air track investigation. Our final report concluded that due to the high possibility of sinkholes caused by the Karst geology and carbonate rock in the area, rock void filling and low mobility grout displacement should be used to fill voids, improve bearing capacity, and reduce settlement.
Hillis-Carnes' Specialty Construction Group (SCG) mobilized and began the LMDG program for Frederick High School in June 2015. The grouting and rock void filling covered over 69,000 SF of the building footprint, in other words, 27% of the foundation. We had two drilling crews and two grouting crews on site to complete the 486 primary holes and the additional secondary and tertiary holes designated by Mr. Goel. In the end, SCG drilled more than 15,000 feet and used over 2,250 cubic yards of grout on this project. We also had a full-time Geologist from our Frederick office monitoring the grouting and drilling operations.
Construction Materials Testing and Inspection services then began on the initial site utilities and the installation of a parking lot for students and faculty, athletic fields updates, and ponds. Hillis-Carnes specifically provided the testing and inspections of soils/earthwork, concrete, footings, slabs and decks, masonry, geo-thermal wells, structural steel, bio-retention ponds, rebar, asphalt, masonry, floor flatness, and fireproofing throughout this project.