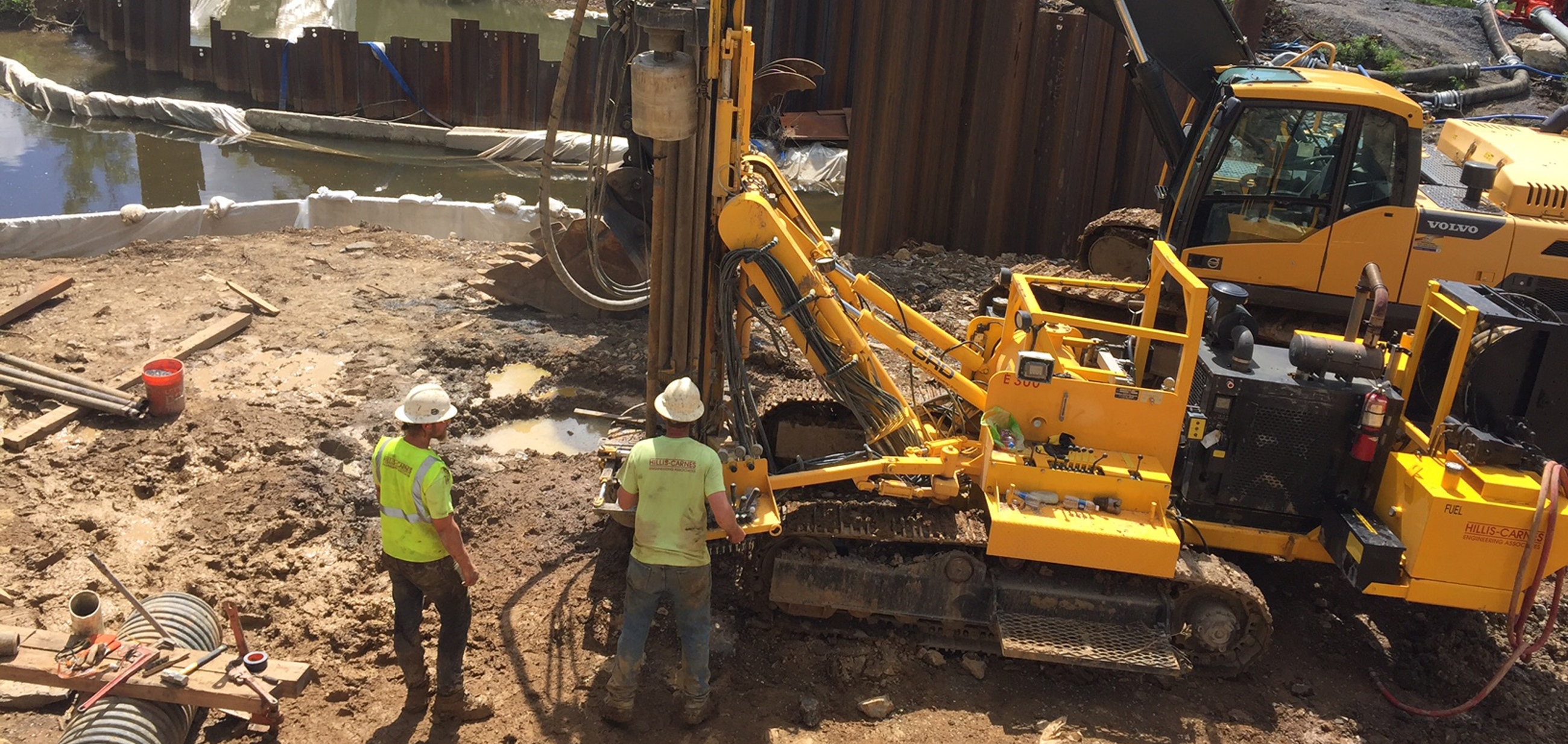 Specialty Geotechnical Construction
The Full Range Of Design/Build Specialty Geotechnical Construction Services Delivered In-House
Our broad capabilities give our clients a single point of contact from the initial design process through construction completion. We are also their single point of accountability — avoiding the breakdowns in communication that commonly occur between engineers and independent contractors and reducing the risk of change orders and scheduling delays.
When researching and purchasing specialized equipment and tooling, we look for multi-use equipment that allows us to provide more than one specialized service in the field. Investing in versatile equipment equals efficiency on projects and cost-savings for the client.

Michael Hillis, Branch Manager of Drilling and Specialty Construction
We can manage every stage: subsurface exploration and the geophysical work necessary to develop the design for the specialty construction services, then perform the geotechnical/structural design, provide the installation/construction services, and next perform the necessary testing and inspections, including engineering oversight during the installation/construction. Then, we provide any confirmation/proof-testing upon completion of construction services and issue final certifications and/or as-builts stamped by a professional engineer upon completion of our work.
Cost is important to our clients, so it's important to us. We can recommend the most economical and practical solutions because we employ highly experienced staff and own (rather than rent) specialized equipment that together allows us to investigate and evaluate the existing conditions of a project thoroughly. We identify the problems and challenges and then consider all of the specialty geotechnical construction options available specific to your project.
Click here to see the other services we offer!
More Services
Geotechnical Engineering

Provide engineering and associated consulting services, to obtain practical and cost-effective design solutions for the geotechnical aspects of each project.

Learn More

Geoscience

Geophysical investigations and evaluations of unknown subsurface conditions, using techniques such as: Electrical Resistivity, Seismic Refraction/Reflection Surveys, Vibration/Sound Monitoring, and Electromagnetic/Micro-Gravity Surveys.

Learn More