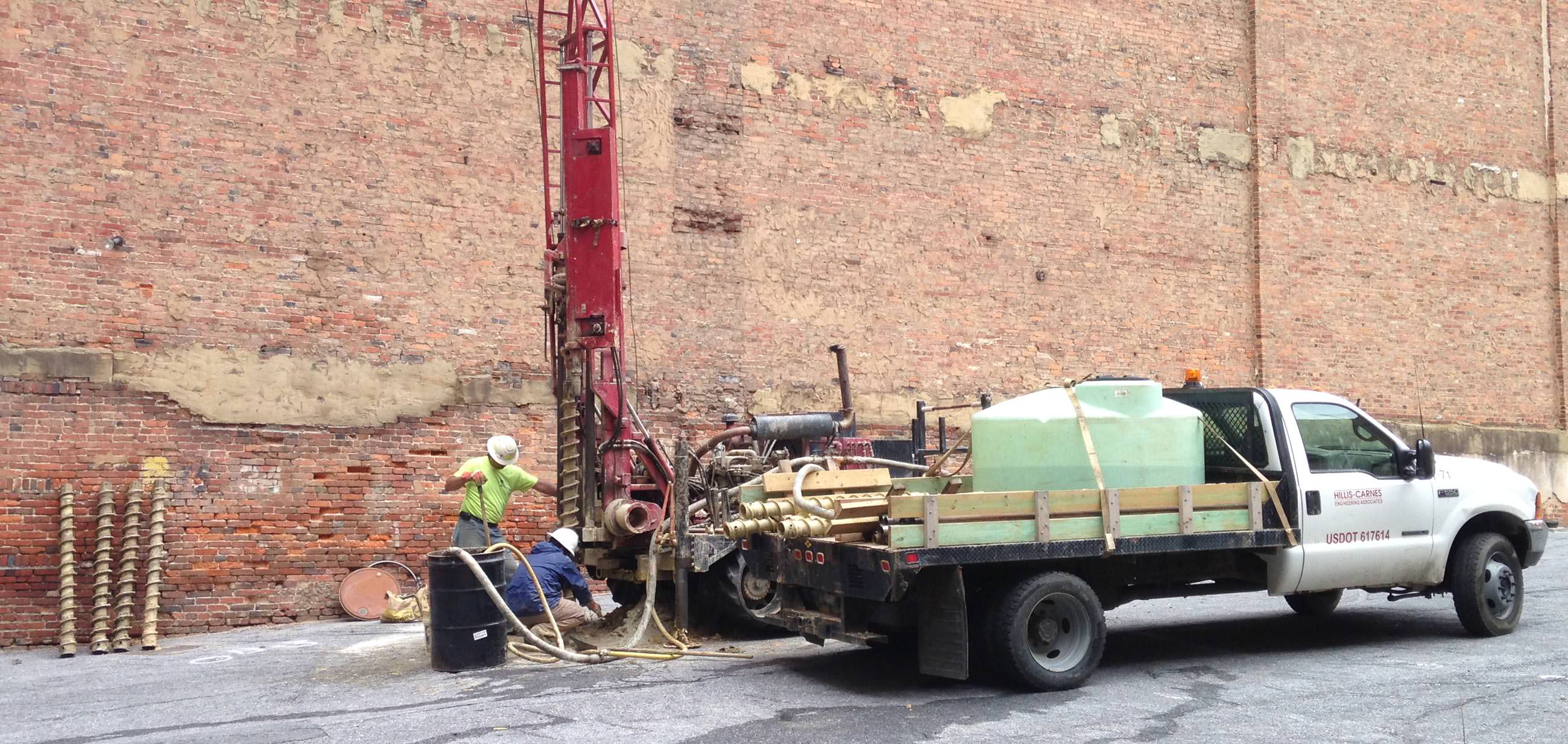 Drilling / Subsurface Investigations
Full-Scale Drilling And Subsurface Investigations From A Single Company
Our Drilling Services division has a reputation for taking on the most challenging projects. In fact, we have a tendency to gravitate toward those projects that have difficult access and poor site conditions that other firms decline. We are the company that can deliver the critical information that engineers need to make sound design recommendations, while working hand-in-hand with everyone involved in a project to ensure a safe and productive geotechnical exploration.
With a single company involved from the geotechnical exploration through project closeout and certification, there's less opportunity for communication breakdowns among the project team and project delays.

Michael Hillis, Branch Manager of Drilling and Specialty Construction
Our equipment is extensive: truck-mounted drills, rubber tire ATV-mounted drills, track-mounted remote control drills, skid rigs, tripod-mounted drills, excavating equipment, and a sectional steel barge and push boat that we utilize for water based geotechnical explorations. Our vast variety of geotechnical drills and excavation equipment allow us to access those challenging projects. Our track-mounted drills with low overhead feed assemblies allow us to take on projects located underneath bridges and inside of buildings with low overhead room. Skid rigs allow us to drill soil borings located in tight areas, on the sides of steep slopes, and in areas adjacent to existing bridges and abutments.
Our track-mounted and ATV-mounted drills allow us to access rugged terrains and wet site conditions. We also own a vacuum truck to assist in our geotechnical explorations through soft digging to clear and locate existing underground utilities prior to drilling test borings and to help locate existing building foundations and provide as-builts to aid in foundation design.
In addition, we are capable of providing in-house in-situ geotechnical subsurface investigations. With our track-mounted direct push unit, we are able to perform cone penetrometer testing (CPT), flat plate dilatometer testing (DMT), and pressure meter testing. This testing, when combined with standard penetration test (SPT) borings, enable us to thoroughly evaluate the subsurface conditions of every site in order to provide the most practical and economical geotechnical engineering solutions.
More Services
Environmental Consulting

Investigation, testing, monitoring, and remediation services including: due diligence, subsurface investigations, industrial hygiene, hazardous materials, and ecological studies.

Learn More

Geostructural Engineering

Evaluations of existing structures, Ground Penetrating Radar (GPR), MSE retaining wall design, foundations and substructures design, sheeting and shoring, and excavation support.

Learn More